Family Owned Farm on the Olympic Peninsula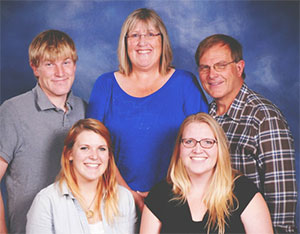 Reserve Your Custom Beef Now!
The number of beef we breed and raise each year is based upon our previous year's beef reservations.
Farm to Table Grass Fed Hormone Free Antibiotic Free Sustainably Farmed BEEF
Wow!  That's a mouthful, which is exactly what you want. 
Better Beef is Better for You and Tastes Better!
Grass fed and grass finished beef tastes good, and because it's all natural, it's good for you, too. Studies have shown that grass fed and grass finished beef is higher in vitamin E, vitamin C, beta-carotene and the "good" fats that help reduce cancer risk, such as omega-3 fatty acids and conjugated linoleic acid (CLA).
Grass fed and grass finished beef has fewer total fats and calories than grain fed beef.  It's super-good beef, so get in line!
Quality Hay for Your Livestock
Jakeway Farms grows ....
NONE AVAILABLE FOR 2020....SORRY!
Vintage Farm Decor
We'd love to share love, warmth and a reminder of a gentler, quieter time with you via our vintage farm decor.
Products coming soon !
What's It Like on the Farm?
We invite you to take a peek into farm livin' in the Sequim Valley of the Olympic Peninsula.
Virtual tours only - coming soon.
Jakeway Farm Videos
Fun, interesting and down-right cute and sometimes catching an occasional extraterrestrial or Sasquatch (or maybe not) on video, too.
videos coming soon...
What do I do if I have a question about Jakeway Farms or its products? (Tap Here)
A great place to start is our Frequently Asked Questions page.
It's a page where we list questions that we get repeatedly as well as questions we wish people would ask.  There's no such thing as a dumb question, unless we have added it to our list just for fun.
Resources that You Can Hardly Live Without
Visit our resources page to find helpful information and links about some fine, local businesses and some of our own favorite places.
Nearly 100% of our customers that purchase our cattle intend to eat them.  We operate a cow-calf business, so we manage our little herd from birth until they are ready for slaughter.  However, we don't provide butchering services.  The beef that we raise is slaughtered at our farm by Farmer George's Meats in Port Orchard.  We suggest that you get in touch with Farmer George Meats in Port Orchard, Washington for that.