Farm to Table Grass Fed Hormone Free Antibiotic Free Sustainably Farmed BEEF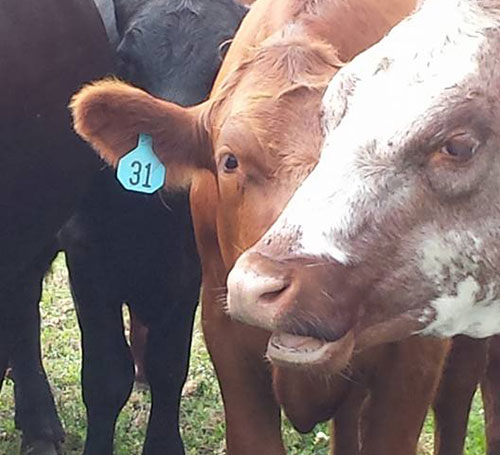 When you buy local beef from us, you can count on it being pasture raised. This means that our cows are allowed to graze outside in the pastures. While the cows probably enjoy being outside under the sunshine, there are also several benefits in it for you when you purchase our local beef.
It's Better for the Animals– Letting animals graze is one of the most humane and sustainable approaches to farming. When you purchase local beef from us, you are supporting this cause.
It Supports Local Farming– Small farms that treat their animals well are hard to come by. When you purchase local beef, you are also helping the economy in your community.
The next time you are tempted to go to the grocery store for beef for your next meal, purchase a local beef from us at Jakeway Farms instead.
Buying by the quarter, half or whole animal.
There are two costs involved when buying a quarter, half or whole animal. You pay us to raise your portion of the animal, and you pay the cut and wrap fee to the butcher's shop to cut and wrap your meat. The animal is slaughtered at our farm by Farmer George's Meats in Port Orchard.
Once the animal is slaughtered, you are in charge of that carcass and you personally contract with the cut and wrap shop to hang, cut and wrap your meat for you how you want it. You make arrangements for the pick up of the meat and you make the payment for the cut and wrap fees to that shop.

First, we will ask for a deposit to reserve your animal portion and then you will be charged for the animal portion based on per pound hanging weight. There is not tax to us since we are selling you a live animal portion. Hanging weight is the weight of the carcass after the animal is slaughtered and the hooves, hide and entrails have been removed and before the carcass goes into the cooler to hang.
Your deposit will go toward the total cost of the animal and once the animal is put down and the carcass is weighted, we will call you and ask for the remainder owed. We are responsible for the rearing of the live animal solely and not the hang, cut and wrap portion when you choose this process.
Secondly, a separate charge occurs when you choose this process of buying a quarter, half, or whole animal. It involves a third party business to hang, cut and wrap your meat. This is a separate business from Jakeway Farms. They will charge you for hanging, cutting and wrapping your meat, and since it is a service this is taxed.
We have no control over, nor are we responsible for the hang, cut and wrap business, so communication with the butcher's cut and wrap shop is key. We suggest you put your cutting instructions in writing with them.
Reserve a beef, or portion of beef.
QUARTER, HALF OR WHOLE BEEF
Cost per hanging weight-Paid to Jakeway Farms.............$4.50/lb (1/4 or 1/2), $4.25/lb whole beef.
Cut & Wrap Fee-Paid to Farmer George Meats....starting at .$0.75/lb hanging wt. plus tax
Slaughtered Fee is covered by Jakeway Farms and is included in the $4.50/lb hanging weight cost.
A $250 deposit per quarter, $500 for half, $1000 for whole animal reserves your portion in line.
We average around 600 pound hanging weight per whole beef, around 300 pounds per half. This is a guestimate since each animal is unique and varies in size and confirmation.
Step Two: Once the animal has been harvested, we will contact you with the hanging weight and ask for the remaining owed to us for the animal or animal portion.
Once we receive full payment for the live portion of animal, we will contact Farmer George Custom Cutting & Slaughtering and place that portion of animal in your name and we will call you so you have the ear tag number Farmer George Meats needs for your cutting instructions:
www.farmergeorgemeats.com/custom-cut-and-wrap/
The meat is wrapped air tight in a special butcher plastic wrap paper.
CONTACT FARMER GEORGE CUSTOM CUTTING & SLAUGHTERING -#360-876-3186 for questions on cutting & wrapping.
Sustainably Farmed Beef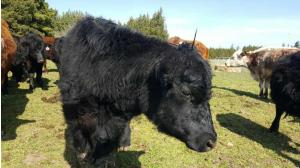 Choose Jakeway Farms for Sustainably Farmed Beef from the Sequim Valley of the Olympic Peninsula of Washington State!